Promotion portals
There's no need to introduce the worldwide known "Have a break, Have a KIT KAT" slogan and the KIT KAT chocolate. On our recent promotion portal
www.gepszunet.hu
, it's all about KIT KAT.
Similarly to other advertising portals, this site had been working for only 2 or 3 months, till the product campaign had gone on. The core feature of alike portals is to complement TV ads while meeting the advertisers' purposes and entertaining the visitors.

Main characteristics of our promo sites:
Up to par, eye-catching graphics, 3D virtual worlds
Interactive games and functions
Flash games and animations
Inbuilt video upload facility, automatic video converting and playing
Organizing and managing sweepstakes
Management of multitudinous SMS's
Management great number of visitors
Statistical measurement of visits, games and options
User interface of the administration system is easy to handle, and enables modifications on the entire portal
Please visit our other promotion portal references!
Breakblog, KIT KAT
"BALATON – PierPicker", Nestlé Hungária Ltd.
www.dreher.hu, Dreher Sörgyárak Inc.
(Have a Break, KIT KAT)
Break Machine portal
If you are tired of all-day grey, let's go to
www.gepszunet.hu
, registrate yourself and tell us, what kind of machine you feel like! If your idea is unbeatably funny, the Gépszünet Team ill film it and makes it available for everyone.
If you feel like directing the video yourself, no problem, just upload the film on our site. The best movies will be rewarded with a cartonful of KITKAT chocolate. 10 big boxes of chocolate are waiting for the best producers every week. The formerly uploaded films are available and playable on the site. Do not forget to leave a shout about the records in the forum!
Already seen all machines during work? Send the bests to your friends as an e-mail, or visit the Game Machine to scuttle all the chocolate boats in the KITKAT Torpedo with as few clicks as possible, or find all hidden chocolate bars in the KIT KAT Office. Take care, and beware of your Boss!

This promotion site includes the following modules:
Registration
Video upload and automatic conversion
Video moderating
Video download
Automatic embedded video plays
Commenting
Poll
Flash games were made by AITIAvisions.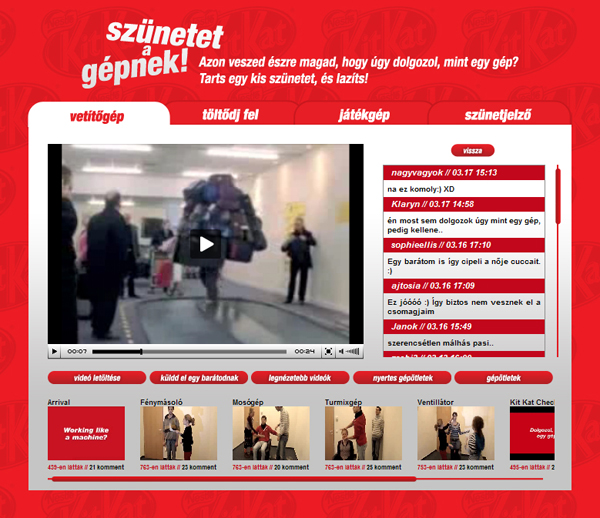 Projector machine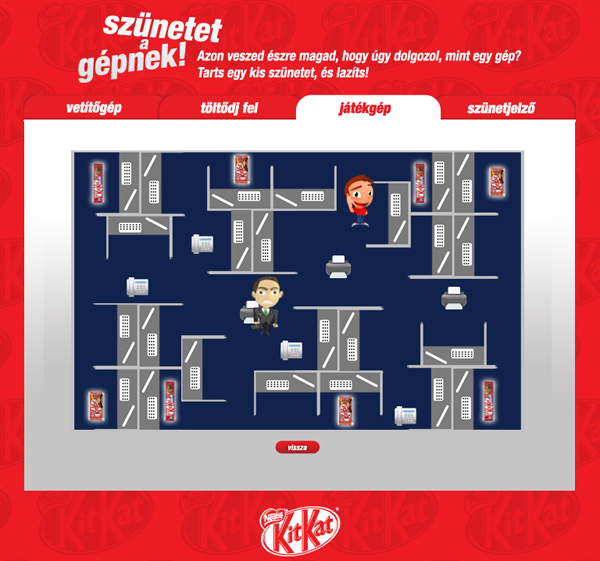 KIT KAT Office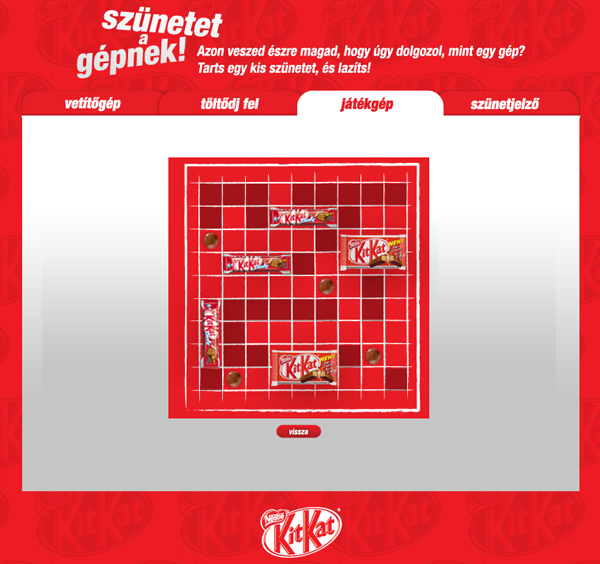 KIT KAT Torpedo