"Curtain falls, jaws drop,
MomentCity
is back to rock!"
-so the virtual city invites its guests again.
MomentCity
with its well known places and new fun facilities has been reconstructed to promote NESACFÉ's 3in1 and 2in1 products.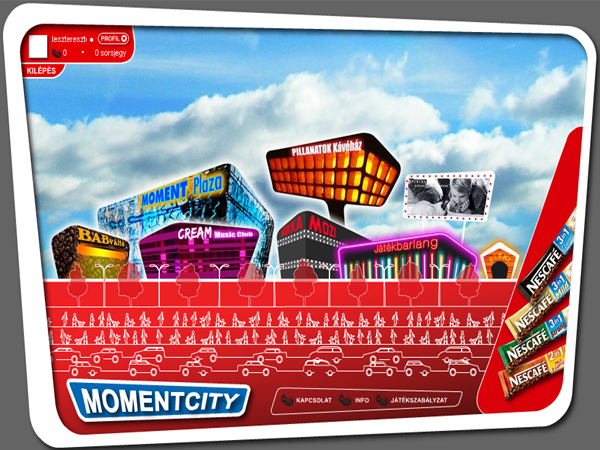 MomentCity
Come and share your opinion using the Forum, and make new friends in the Chat Room!
Visit the Moment Plaza for cool kitchen appliances and trendy outfits! Find the answers to the Frequently Asked Questions, browse our wellness tips, read your Horoscope, take part in self-knowledge test, or get to know the rules and law of the City in the Room of Nice Advices.
Enter the Cream Music Club for the hottest songs of your favorite stars week after week, download new ringtones, and watch the VJ's video hits!
Challenge your luck in the Gambling Den by playing Black Jack or Poker! Multiply your Coffee Beans by trying the Slot Machines, or simply have fun without risking your virtual money by playing free logical- and ability games.
Drop by for a good film festival movie in the Mokka Movie Theatre, and send a postcard to invite friends to MomentCity! If at least 5 of your pals become an inhabitant, you'll be promoted to a VIP citizen and have the opportunity to win special prizes!
Throw some Coffee Beans for Bleki, the City's favorite dog, and they will "magically" turn to Purina pet food donated to the HEROSZ pet rescue.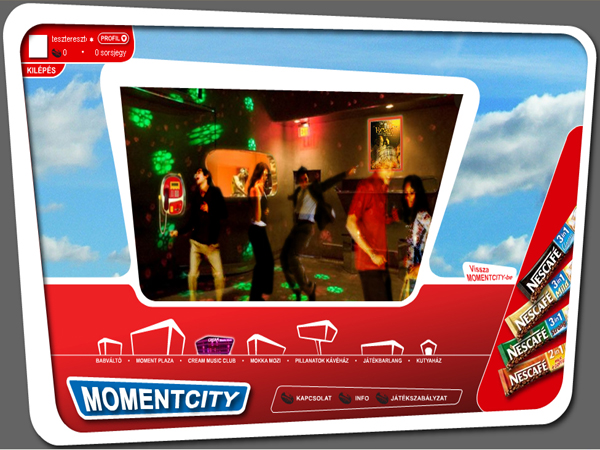 Cream Music Club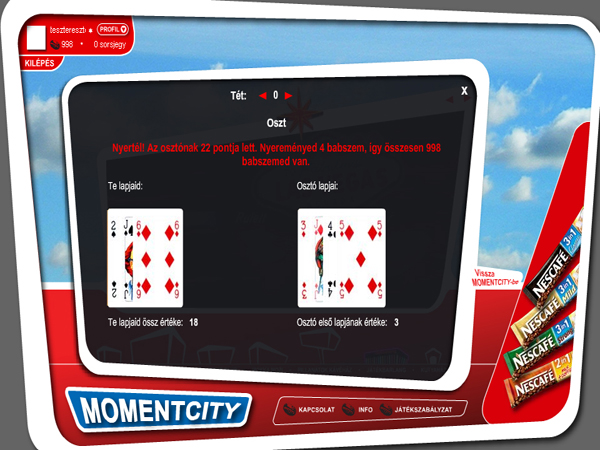 BlackJack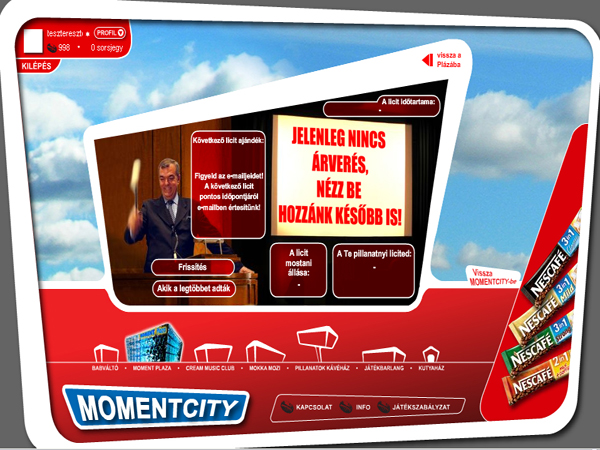 MomentCity Bid
NESCAFÉ's
Virtual City
is based on WEBRA 3.0 content management system and built on flash technology with XML communication. The site gets its constantly refreshed, dynamic content from a database hosted by AITIA.
MomentCity
has more than 50 000 inhabitants this far, but the "population" is growing. To join the game, you only have to register on the
www.momentcity.hu
website by entering a code number, which is printed on the inside of the Nescafé 3in1 and 2in1 sachets. In return for the codes, 10 or 20 virtual money units, so called Coffee Beans will be credited to your virtual account, waiting for being spent on prize tickets, online games, ringtones etc. Regularly sent Newsletters inform all the citizens about every important event and piece of news.