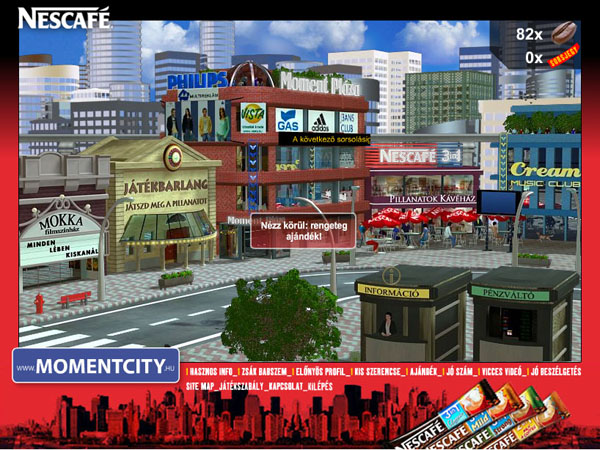 Main street
Billboards are advertising the virtual City called
MomentCity
throughout the country. The site based on Flash and XML technology can be viewed at
www.momentcity.hu
. The site is unique: it supports two leading brands:
Nescafé 3in1 and Nescafé 2in1
from the Nestlé group within a promotion combined with weekly sweepstakes. You can become a "citizen" of the town by registering. To do this, you have to enter the code from the inside of the Nescafé packages on the promotion portal or send it in a text message to a given number. By sending codes in, virtual money (Coffee Beans) will be credited for you to spend on different virtual games and tickets for the sweepstakes to win real prizes.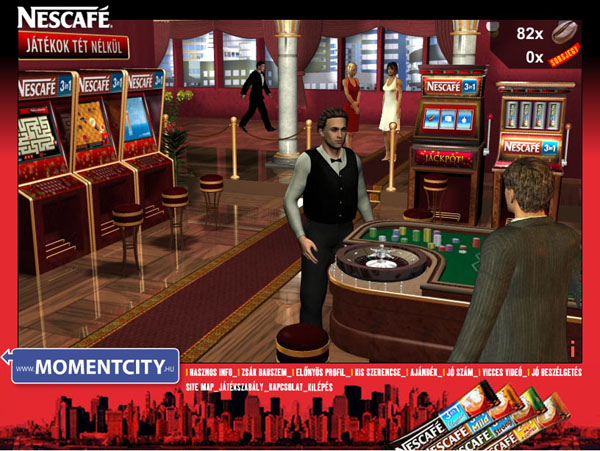 Gambling Den
Locations of the virtual city are the following:
Mokka Movie Theatre: here you can upload films, play previously uploaded videos on the administration interface. E-card sending and Youtube videos are also available.
Gambling Den: Roulette, slot machines, logical- and ability games are awaiting you to spend or multiply your Coffee Beans and have a good time.
Moment Plaza: here you can buy tickets for the weekly organized sweepstakes. In the Plaza Shops there are many prizes to choose from: electronic goodies, trips, clothing vouchers.
Moments Café: you can post to the forum or send text or picture messages to the message board. The fortune-teller gives you advice regarding your future.
Cream Music Club: music videos and downloadable ringtones are available here for virtual money (Coffee Beans).
During the registration users can piece a profile (a face) together by choosing hair, eyes, beard and glasses for themselves. The weather is also changeable in
MomentCity
: sometimes it starts to rain, and what's more, after 6 p.m. it's dark.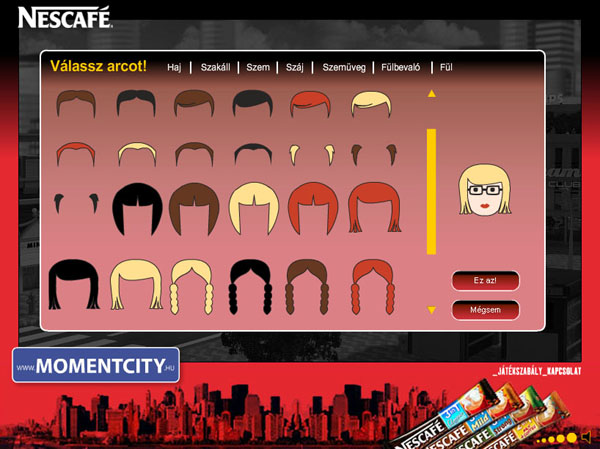 Create your own profile!
Moderation of the forum posts, text and picture messages and uploaded videos can be done on the administration interface of the MomentCity portal. Uploading of campaign- videos, YouTube videos and postcard pictures are also available here.
Userdata of the registered users, customer service employees, moderators and administrators are also stored on the administration interface. A multilevel access management is also available: all registered users have different access rights to different data stored in the system.
Webra also supports the evaluation of the promotion: there are more than 20 built-in statistics, and most of the tables and data can be exported into Excel files with one single mouseclick. Design (3D, flash animation, graphics) of MomentCity was made by AITIA Design Studio (http://ds.aitia.ai). By entering the main street of the city, you can hear MomentCity's theme song.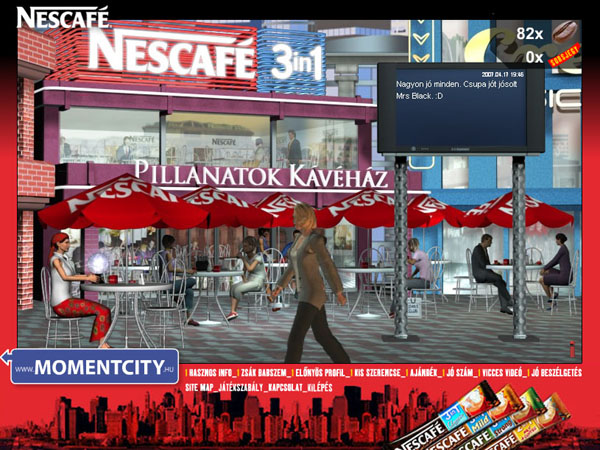 Moments Café