At the end of 2007,
the website of the Hungarian Tourism, Inc.
got a new design and WEBRA 3.0 portal engine. The site is special, because it allows a lot of versatile searches gaining informtion from a Touristic Database that contains enormous amounts of data.
If planning an inland holiday, desiring a wellness weekend or aiming to attend an amusing event, the topic-specific search (by accommodation, events&programs, catering) options make our choices much easier. Having chosen the region of our stay, restricting the searches for the desired touristic region is also possible.
The built-in weather forecast box informs us about the current weather conditions characteristic for the larger cities of Hungary by using data provided by Yahoo!. Search engines of the Hungarian companies responsible for inter-city public transport (MÁV, Volánbusz) can also be found in the Transport menu. Lots of photo galleries and videos lure the visitors for a bit of recreation. Hungarian Tourism, Inc. also runs a brochure request useful for professional and non-professional users.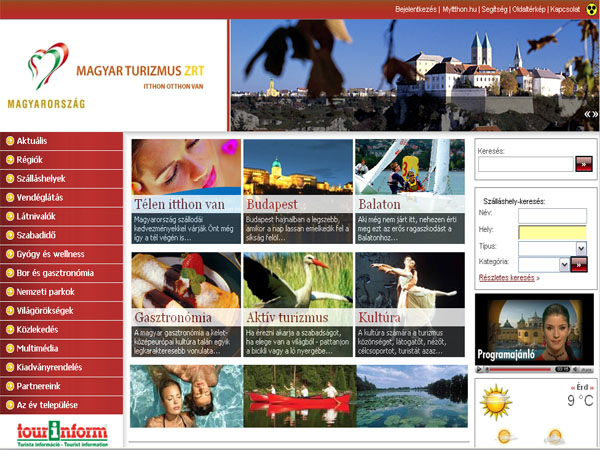 Website of the Hungarian Tourism Close Company
The administration interface is suitable for editing touristical object data (about accomodation, sightseeing, events&programs, touristical regions, settlements etc.).
The well-configurable, multi-level access control of the administration interface allows the editing of diverse portal functions by users logging in using different permission levels.