Data of nearly 25 000 tourism related providers in the National Database for Tourism – innovative search services with integrated GoogleMaps application
Procurer: Hungarian Tourism Inc.
Profile: Information service, Tourism
Service launch: from November 2007 continually
Please visit this site:
www.itthon.hu/english
Hungarian Tourism Inc. has recently launched its
Map Based Search
. From now on, visitors of the
www.itthon.hu/english
site can browse up to date information stored in the National Database for Tourism right on an interactive map.
Map Based Search powered by GoogleMaps Engine
With the help of the
Map Based Search
, visitors can browse information in Hungarian and
in English
about nearly 250 000 touristical providers. Data of 8500 accommodations, 5000 caterers, 6000 spectacles, 1850 leisure activities (e.g. golf, horse riding, aquatic sports etc.) , 450 curative and wellness providers, aquaparks, beaches, 300 preferential offers and 2000 events are shown in detail, grouped by topics.
Services which may meet the Visitors' interests are pointed out with their own designed placemarks:
by ticking the desired checkboxes, data of services found on the selected, magnified area of the map can be retrieved easily.
The Map Based Search provides an opportunity to search for settlements by entering their names or postal codes into teh Address search box.
If a settlement with the entered name exists, the Map shows it immediately.
If the Visitor is curious about events, accommodations, caterers, spectacles, or sports facilities in the selected settlement or within its 5, 15, 25, 50 km's range, a circle with the appropriate radius can be drawn onto the Map and the Service meeting their needs can be selected and viewed with a single click.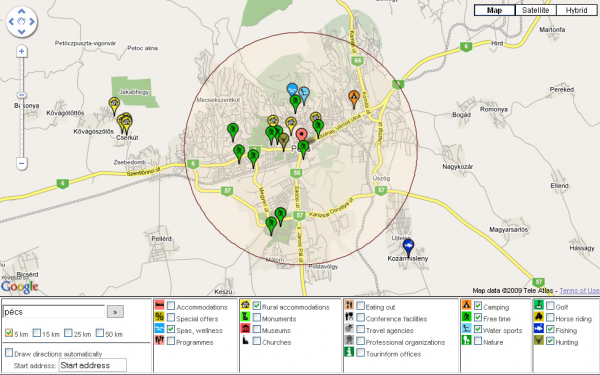 Find events, caterers etc. in the vicinity of a selected settlement

By clicking on the placemarks, visitors of the website can view basic data (name, address, phone number, e-mail address) and there is an opportunity to require automatic route planning either – by entering settlement name, and optionally street name and number.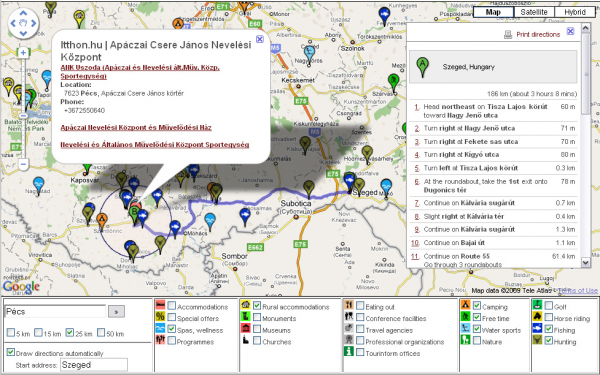 Instant route planning with a single click to find the selected spectacle or service, based on a given address
Technology
The Map uses the Google Maps API.
Google Maps is a free, online map service developed by Google. Its maps and satellite snapshots cover the entire surface of the Earth – with different particularity according to the location. The Google service's open source API makes the application capable of showing our own geographical data. The Map Based Search implemented in the
www.itthon.hu/english
site also includes and uses the
Route Planner and Geocoder
applications (the latter translates settlement names and addresses into longitude and latitude values)
To save Visitors' browsers and PCs from overload, Map Based Search only retrieves data of services found in the selected, magnified map area.