The WEBRA 3.0 CMS administrative interface is a fully web based solution, the system administrator needs just a browser and can log in from anywhere. The intuitive and user-friendly interface employs visual elements similar to well known office suites (Microsoft Office or OpenOffice.org), and e-mail clients. Therefore WEBRA administrative interface training is a short course, because most users are already familiar with office program usage. They can successfully apply their knowledge because the software behaves as expected.
Article editor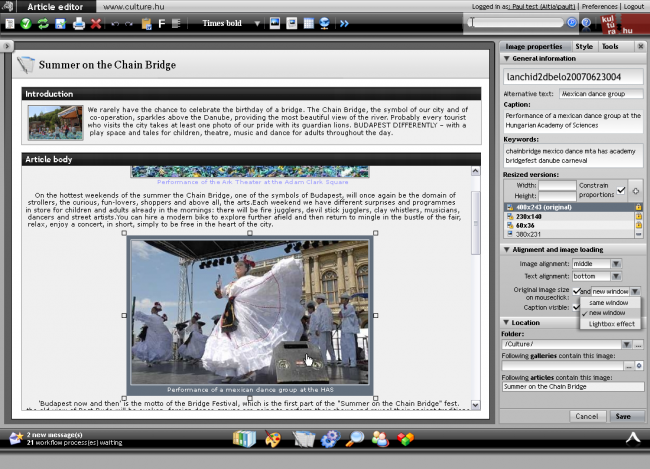 Article editor
The above picture demonstrates the functionality and behavior of the content editor. Main menu – upper horizontal icon line – shows the most frequently used functions in content manipulation. On mouseover, the icons reveal more symbols standing for further useful content editing options. The most important article manipulations are: 1, text editing functions that are already well-known from MS Word; 2, inserting objects like images, image galleries, downloadable documents, internal and external links, anchors, playable videos and flash animated banners. On the right pane there is the content object's meta-data like parent folder, symbolic links, visibility, etc. User can define here all folders (pages) where content will appear.
Media store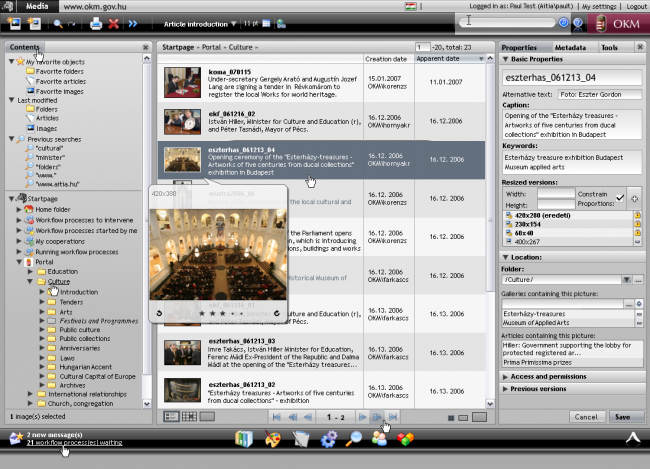 Media store and an image rollover
Media store is responsible for listing and managing all images, videos, flash animations. Webra offers automatic image resizing: an image object is in fact a collection of several image files, resized to standard sizes (automatically generated) or defined by users (manual). This helps keeping the page sizes reduced and getting rid of image distortion. You do not need a separate image manipulation program and the system always retains the original image as well. In compliance with the Dublin Core metadata element set standard and W3C WCAG requirements WEBRA stores the content objects' title, author, image alt text, etc.
Rights settings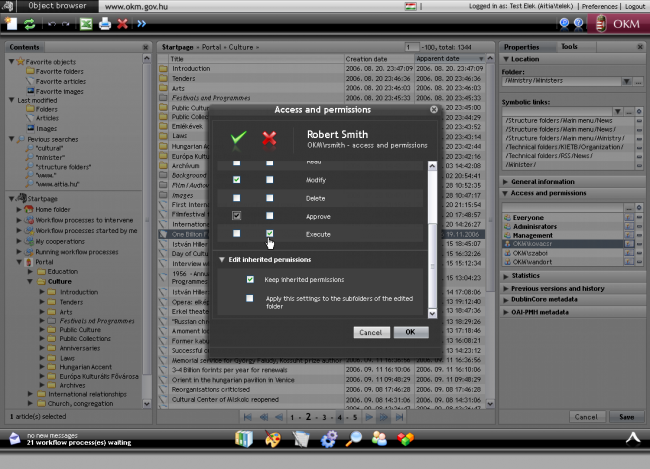 Rights settings
Webra3 features an advanced access control system. Permissions are defined for every object. Permissions are inherited from the parent folders, up to the root of the folder hierarchy. Permissions can be set for individual users or user groups. The inheritance can be overridden.
Template editor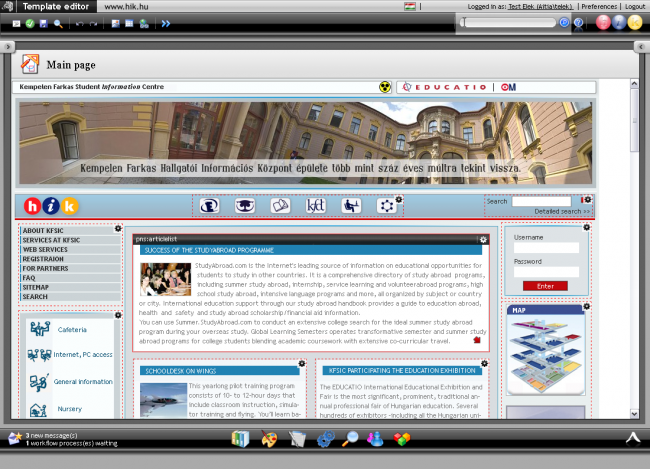 Template editor
Webra3 features a WYSIWYG template editor to manage web site templates. The web site appears the same way as it's presented to the public, and modules are marked by dashed borders. The configuration settings for modules can be set by clicking on the small cog icon in the upper right corners.
In the middle pane a content listing module is selected, as indicated by the darker header with the module's name in the title.
Welcome page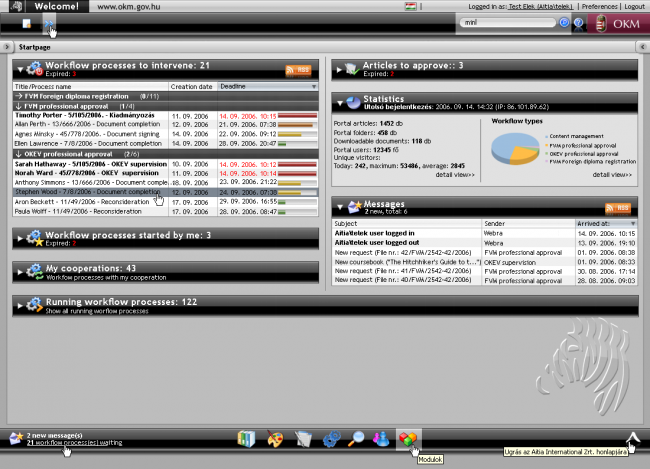 Welcome page
The administrators' welcome page appears immediately after a successful login. In effect it is a dashboard showing the most recent changes, statistics regarding the site. Site administrators immediately get an overview of the current status of the system, the latest events, components and workflows. Dashboard is customizable and differs per user groups because different group permissions and activities are not the same.
Above image shows a workflow oriented settings. In the case of CMS last updated content, new objects, new messages, last logged in users listings come to the front.
In the upper right corner the Fast Search can be seen. This "search-as-you-type" feature searches in 100 milliseconds in all objects, listing relevant hits by type (news, folders, documents, users, etc.).
Workflow editor
Webra3 can be ordered with a built-in workflow engine and an accompanying worflow editor which leverages Adobe Flash technology. Administrators can easily draw an arbitrary workflow using drag&drop. This editor is not part of the CMS system, but it is important because it demonstrates the extensibility of the CMS system.
Other functions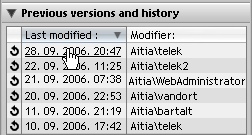 Versions and history
Webra3 stores every change made in the system, the time and date of the modification and the modifying user's name. Previous versions of the modified objects – downloadable documents, portal articles etc. - can be viewed or restored with a single click.

Dialogue box
Successful actions are confirmed in a dialogue box.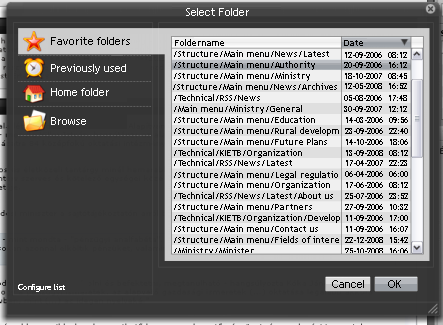 "Select a folder" dialogue
If the administrator creates a new portal object, or moves one to a different folder in the system, folder selection in Webra3 is easy with Favourite folders, Most recently used folders, Home folder or browsing.