What we are proud of…
The homepage of the Hungarian National Tourist Office promotes sights and touristic values of our country in English with Hungarian folk art design.
Running on a multi-domain-capable Webra 3.0 content management system which is operating almost all other specific portals of the Hungarian National Tourist Office, the site uses touristic information from the National Touristic Database. We have developed a multi-language database (currently in English, Hungarian, German, Spanish, French, Polish, Romanian, Russian, Slovakian, Ukrainian, Italian).
Contributors can edit and upload portal contents in any language. The 'Languages' menu on the main page directs to other websites about Hungary that are available in 31 different tongues with various, eye-catching designs.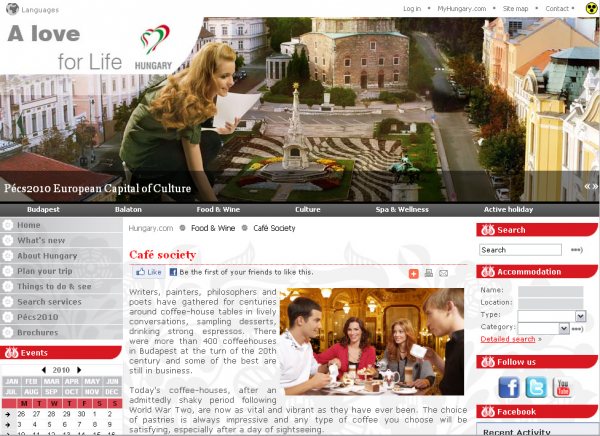 Snapshot of the homepage and Pécs, Hungarian culture capital in 2010
Divide (and conquer)!
The www.hungary.com site deploys features that are already well-known from the www.itthon.hu site (published for a domestic audience in Hungarian):

Registration: after registering and signing in, users can collect and organize favorite articles, pages, touristic objects to a single, user-specific My Hungary.com menu.
Follow us: Integrated Facebook, Twitter and YouTube applications are available by clicking on familiar logos: on Facebook and Twitter we can keep track of events, festivals and actualities in Hungary. With help of the embedded Facebook Recent Activity menu, visitors can follow their friends' activities if logged in to the proper community site in the same browser. On YouTube, we can view a categorized video-stream about Hungary with a single click.
Bookmark and share: After logging in to the proper community site, pages and articles of hungary.com can be shared with visitors' friends on almost 300 community portals and applications.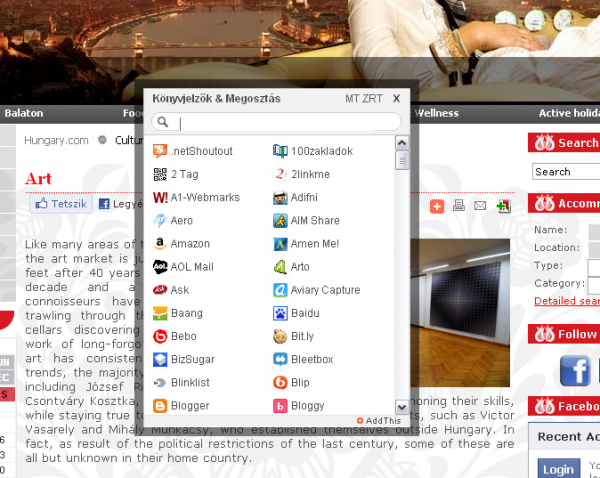 Web 2.0

Find your way to us!
Search for services:
most detailed and specific searches are available here. We support browsing of five bigger topics: Accommodation, Sights, Active Holiday, Spa&Wellness, Going out.
For example, visitors can enter search conditions like type of catering trader (folk restaurant, pub, salad bar, sandwich bar etc.); type of cuisine (folk, fusion, hungarian etc.); indicated services (air conditioned, live music, open air terrace, high chair for babies etc.). The system shows search results on an integrated GoogleMap along with a detailed, photo-illustrated list of services found. On the pages of registered suppliers, a further GoogleMap shows a more detailed wiev of service locations.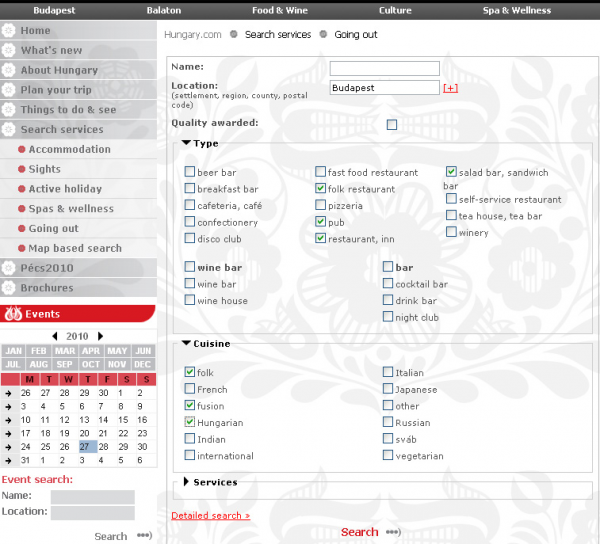 Service search - defining search conditions
Service search - results list with GoogleMap

Map based search: just zoom in at any part of the country with help of the GoogleMap, pick a service type (e.g. Monuments, Museums, Conference facilities, Eating out, Golf, Fishing, Special offers), and wait for a few seconds.; points of interest in different colors will show the proper places, and clickable information about the items selected.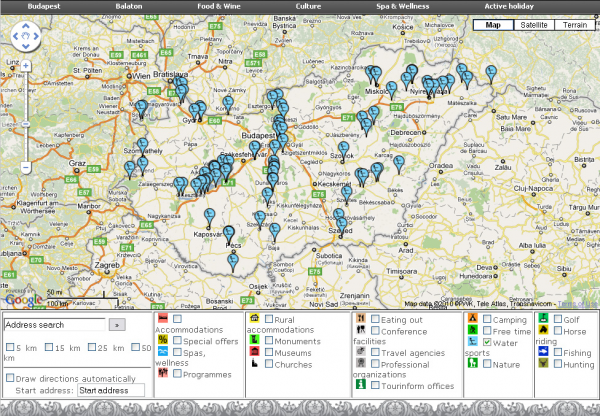 Map based search of touristic objects
Share your experiences!
Brochures: In cooperation with WBS, logistics software used by HNTO, Webra 3.0 manages all orders coming in for brochures.
Photo archives and photo store for business partners: Press-and tourism related partners can order and procure photos made by HNTO and use them on the web and for printing (in high resolution version) as well. A Webra module developed solely for this purpose handles orders and sends e-mails to procurers about their orders' details. Having received the payment, the system compresses the ordered photos to .zip files and sends them to the partners.
Accessible for everyone..
http://hungary.com meets all requirements of the Web Content Accessibility Guidelines level 'AA', which was stated by the WAI (Web Accessibility Initiative) W3C accessibility workgroup.