The
National Office for Research and Technology
(NKTH) has a key role in developing and implementing Hungary's science, technology and innovation policies. NKTH supports financially and by institutional means the creation, dissemination and exploitation of new knowledge and technology. Its activity is financed by the Research and Technology Innovation Fund. This public funding is recycled by NKTH into the Hungarian economy by supporting R&D activities, primarily through its system of calls for proposals.
AITIA has been supporting the
Office
for more than four years. The recent modernization of the portal design had given an excellent opportunity to upgrade the portal engine to Webra 3.0 from the former Webra 2.0 system. During the project, we have paid extra attention migrating and adapting all contents of the former webpage from the Webra 2.0 system to the new administration interface, which includes lots of additional features.
Key features of the portal are the following:
The administrators can easily create protected folders and multilevel folder structures only available for a few restricted users' groups. The highly configurable user accesses to various tender groups and downloadable documents ensure a flawless transaction of tender procedures.
Special and most eye-catching feature is that submenus and documents of variable file types are sorted and ranked by combined object lists, which also show file sizes and matching icons for the different files (Word, Excel PowerPoint, Zip etc.).
Visitors can share their opinion about the current topics in the forum and also get a line on topic-categorized events and programs uploaded into the Calendar. Administrators can easily assign a short foretaste-article to each event in the calendar.
Current News about the Office and the running tenders are sent via Newsletters, which are edited and forwarded with the help of the administration interface. The article lists in the Newsletter scheme are suitable for listing pieces of news from many different folders. With the help of the administration interface we can create more newsletter types, also with separately editable recipient list.
With Webra 3.0 the administrators get a work-sparing feature to create forms, which can be published on the Office's homepage, so that the visitors can fill them in and submit information easily.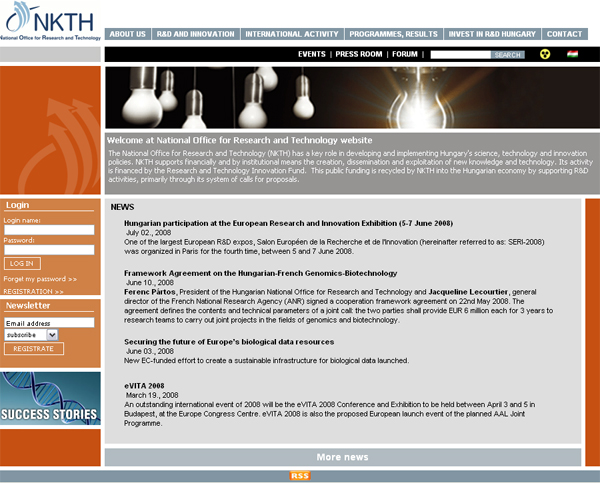 It is essential that the
NKTH Portal
is also available in English, because of their active involvement in international issues. Sitemap and visible pathways help visitors find their way browsing the Office's sites. For accessibility reasons, the homepage is also available in high contrast version created by a simple CSS switch.